Why You Need a Cybersecurity Expert Witness for Your Cybersecurity Litigation
In today's digital age, cybersecurity threats are a growing concern for individuals and organizations alike. One key area where this expertise can be critical is in cybersecurity litigation. Whether you're pursuing legal action against a cybercriminal, defending against allegations of cyber wrongdoing, or simply seeking to understand your legal rights and obligations in the face of a cybersecurity incident, having an expert witness on your side can be an invaluable asset.
Here are four reasons why a cybersecurity expert witness would be attained by attorneys involved in cybersecurity litigation:
Educating Retaining Counsel: When it comes to cybersecurity, there are few areas where experience and expertise are more critical. By working with an expert witness who has a deep knowledge and expertise in the field, counsel can gain a better understanding of the technical and legal issues at play, and develop a stronger case based on sound evidence and analysis.
Educating the Jury: A qualified cybersecurity expert witness will testify at trail to assist the trier of fact in evaluating the evidence in the case.
Assisting Counsel in Questioning Opposing Experts: A cybersecurity expert witness can help counsel determine how to depose and cross examine the opposing cybersecurity expert witness. Since cybersecurity is a highly technical field, counsel often requires technical assistance to formulate the right questions to the opposing expert witness.
Assisting Counsel in Challenging Opposing Experts: A cybersecurity expert witness may provide insights which help their retaining counsel to draft motions to exclude the opposing cybersecurity expert witness. Such motions are typically based upon the expert's methodology and/or qualifications.
In conclusion, a qualified cybersecurity expert witness can assist attorneys dealing with cybercrime, data breaches, intellectual property, or other cybersecurity issues which are the subject of litigation. At Secure Anchor, our expert witness services are designed to provide clients with the support and expertise they need to navigate the complex world of cybersecurity litigation. Contact us today to learn more about how Secure Anchor, Dr. Eric Cole, can assist in your cybersecurity litigation.
Learn More about Dr. Eric Cole, Ph.D.: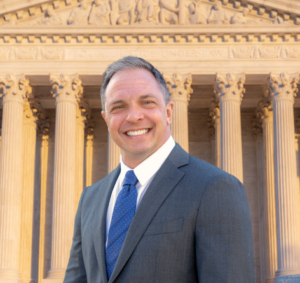 Dr. Eric Cole, Ph.D.  is a cybersecurity expert witness who has been inducted into the Information Security Hall of Fame.  His consulting clients include Fortune 500 companies, Fortune 50 Companies, international organizations, and the federal government.  Dr. Cole is the former Chief Technology Officer for McAfee, former Chief Scientist at Lockheed Martin, and former Program Manager at the Central Intelligence Agency.  He is the author of several textbooks and books including a #1 best seller.   Dr. Cole has extensive expert witness experience including high-stakes expert witness assignments involving nine and ten-figure verdicts.  Has provided over 40 depositions and 15 testimonies at trial.
He has taught at the SANS Institute, Georgetown University, NY Institute of Technology, and has been a guest lecturer at Purdue, MIT, Harvard, and Berkeley. Dr. Cole is certified in CISSP and created the GIAC certification programs and exams. He served as a member of the Commission on Cybersecurity for the President of the United States and is a member of several advisory boards such as the Purdue University Executive Advisory Board. While working for the Central Intelligence Agency (CIA), Dr. Cole received six exceptional performance awards, and has received the Cyber Wingman award from the U.S. Air Force.
Dr. Cole may be contacted at 703-909-2998 or [email protected]. For more information please visit www.secure-anchor.com/expert-witness