We are now offering two virtual trainings for Chief Information Security Officers.
If you know you are ready to own your own future, not rely on an organization to ensure your financial security, or you just want to take the lid off your earning potential, NOW IS THE TIME TO ACT!
As a vCISO (virtual Chief Information Security Officer), you are able to take on multiple clients, create your own schedule, and choose who you work for. The position can be your main income source or it could simply be a way to make money on top of your current position.
Right now, you now have more free time than you would have had a few years ago. The best investment you can make in yourself is to find ways to establish a financially secure future for you and your family. This is especially important when you have little control over what happens in the outside world.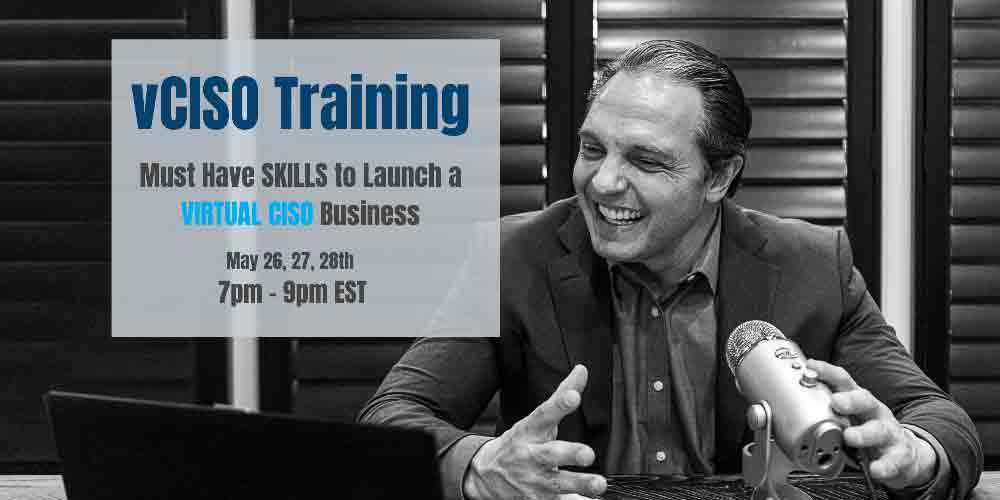 What Will You Learn at vCISO Training?
With over 30 years experience in Cybersecurity, and having built a successful Cybersecurity Consultation company (and helped build several more), I know what it takes to WIN in this environment (and make a great living doing it.)
During this workshop I am going to teach:
How to get your mindset and focus in place to launch your business
How to interact and work with clients remotely
How to sell your VIRTUAL CISO services
The core skills needed to be a VIRTUAL CISO (you don't have to currently BE a CISO to create this type of business!)
The CISO is an Executive that is Responsible for the Cybersecurity Strategy within an organization.
If your career path is leading you toward being this executive in your organization or with the hopes of career advancement elsewhere, it's time to level up.
This is the only real CISO Certification that is developed by a well-known CISO and covers the strategic mindset of what is needed to be a security leader in an organization.
Meet Your Cybersecurity Trainer – Dr. Eric Cole
Dr. Cole is a world-renowned cybersecurity expert that has over 30 year's experience designing, building and implementing effective solutions that work and scale across an organization. When Bill Gates and President Obama needed a top cybersecurity expert, Dr. Cole was the person who received the call.
Dr. Cole has written several of the top-selling cybersecurity courses and trained many of the industry professionals. Learn directly from one of the top cybersecurity defenders on sought after industry expert.
Looking for a training specifically customized to your needs?