Cyber Security Breaches, Ransomware, Identity Theft, Privacy Exposure and Fraud not only cost businesses money, but also their reputation and productivity.
Don't become a victim.
No business is immune from the risk of cyber-attacks; organizations both large and small must develop smart strategies to safeguard their valuable information. In addition, an organization must also protect its employees and the personal information that is stored on both work and personal computers. Both external and internal threats can target and harm an organization. Today, regardless of your positon or title in the organization, cyber security is something everyone must understand and make a part of their daily activities.
World Renowned Cybersecurity Expert With more than 30 years of network security experience, Dr. Eric Cole is a distinguished cybersecurity expert and keynote speaker who helps organizations curtail the risk of cyber threats. Dr. Cole has worked with a variety of clients ranging from Fortune 50 companies to top international banks to the CIA. He has been the featured speaker at many security events and also has been interviewed by several chief media outlets such as CNN, CBS News, FOX New and 60 Minutes.
The Dr. Cole Difference – Real World Cybersecurity Expertise:
• Entertaining, practical and engaging
• Real-world experience
• Analogies that make it easy to understand complex topics
• Exciting and energetic
• Applicable to all audiences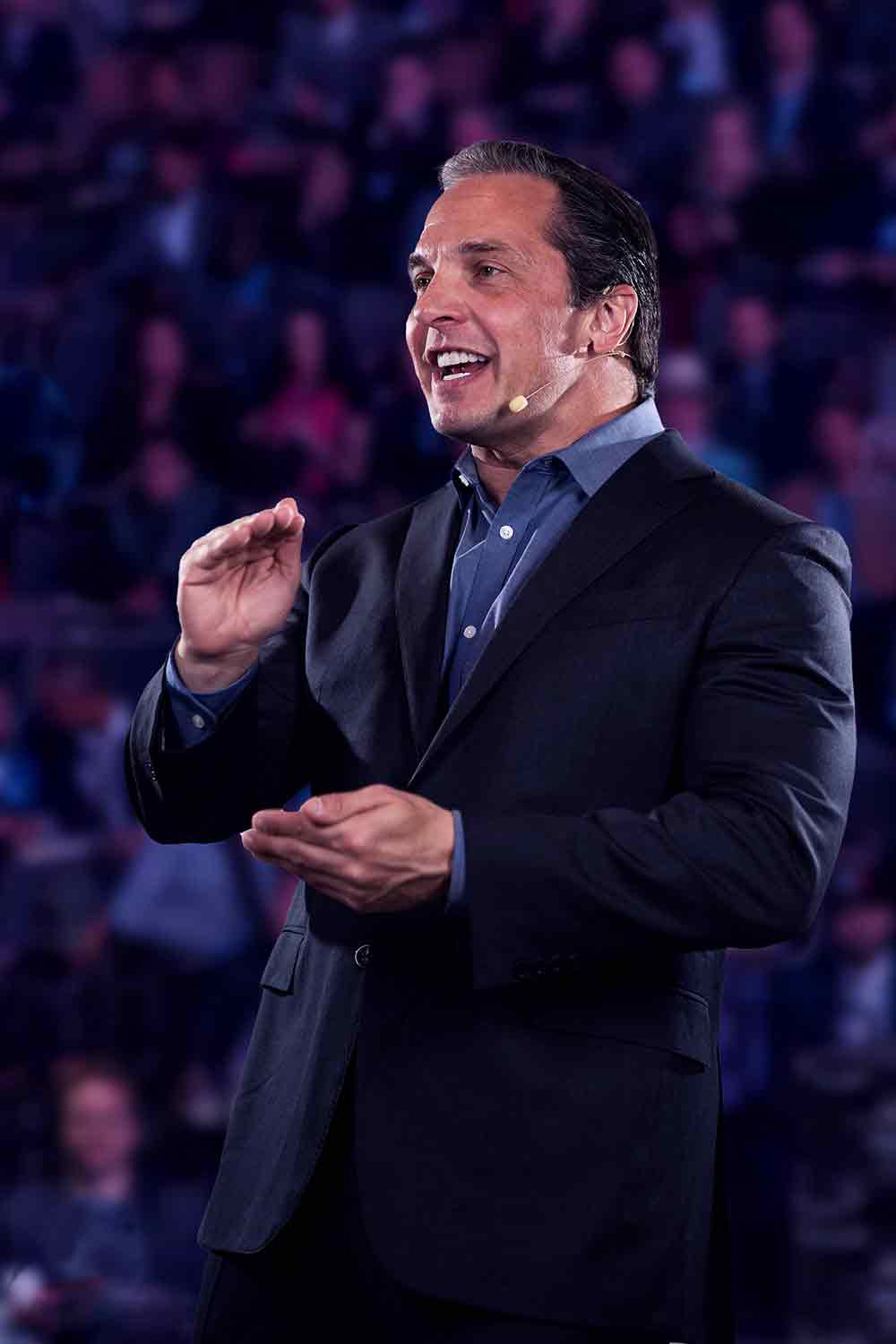 Cybersecurity Keynote Topics
Most of Dr. Cole keynotes are customized for the audience but below are some general topics that Dr. Cole can speak on. However, if you do not see your topic below and it is related to technology, cybersecurity, and peak performance, Dr. Cole can help.
You Are a Target
One of the big problems in cybersecurity is individuals and companies do not believe they are a target. The problem is, they will happen and the probability of you or your organization being compromised is almost a guarantee. Often the smaller the company, the less security, and the easier it is to break in. So organizations that don't think they are big enough for an adversary to come after them, are often the prime target of attack. Today's attackers are not stealing a million dollars from one person, they're stealing $1 from a million people. So those that do not think they are a target, let down their guard, and do not implement proper security, are often the ones that very quickly become victims.
Online Danger
Whether we like it or not, we live the majority of our life in cyberspace. Regardless of the amount of time in cyberspace, we need to recognize that our personal, critical information is stored online in computers. If we do not protect our online information, it will cause detrimental damage to us, our families and our businesses. Whether you realize it or not, you are a target. You are going to be compromised. And only by understanding the threat and taking action, can you be safe in cyberspace today.
Security Metrics
You cannot manage what you cannot measure. A common issue with cybersecurity is doing good things, but not the right things that really matter. Missing one key aspect is all it takes for an adversary to break in. In order to stay ahead of the adversary, it is important that companies have critical security metrics to identify what is and is not working. By having proper metrics integrated into a security dashboard, organizations can make the right decisions to protect and secure their critical assets.
The Myth of Cybersecurity
One of the most dangerous mindsets an organization can have is that they will not be attacked or that compromises do not occur. This is because when you do not think you are a target, you are not going to focus energy and effort in the proper areas of security. Yet the probability of an organization getting compromised is almost a guarantee. An adversary is after any organization that is in business and has critical data that needs to be protected. It is important to learn what the real threats are to an organization and actionable steps you can take to protect and secure your organization to stay ahead of an adversary.
Steps of a Cyber Attack
Many organizations focus on cyber defense, yet they do not really understand how an attack actually works and what the real exposures are to an organization. It is important to learn step by step how an attack actually works and how to use this knowledge to properly protect and secure your organization. When you understand the steps of an attack, how the threat works and what the vulnerabilities are, you can start to focus on fixing the right problems, and properly securing and protecting your organization. The only way to be good at the defense is to understand how the offense operates.
Defending a Compromised Network
Every time you add servers, new applications, or add functionality, you are decreasing your security. Based on common threats and the persistent nature of the adversary, the problem of an organization being compromised is very high. The challenge with implementing effective security is containing, controlling, and minimizing the damage to defend an already compromised network. Too many organizations focus on prevention and nothing else, so if prevention fails, there is not much else in place to minimize the damage. The real approach to security is timely detection. The key is to accept the fact that a compromise will likely occur and when it does, have a plan detect and respond in a timely manner to contain and control the damage.
Cybersecurity Playbook
Having an effective playbook is necessary if you want to win. Unfortunately many organizations fail to have one for cybersecurity. In most organizations, cybersecurity plans tend to be reactive measures in which organizations are not clear on what to do and when to do it. If you want to win in the game of cybersecurity, you need to have an effective playbook with proper plays that allow you to be able to detect, control, and minimize damage. By understanding the offense, what the adversary is going to do, you can create effective defensive plays to implement in order to win at this game of cybersecurity.
Proactive Security
The current model that most organizations use to protect their organization utilizes preventative measures. The problem is today's adversary is targeted and data-focused. There is no visible sign of an attack. That is why, on average, most organizations are compromised for 27 months before the attack is detected. The model needs to shift from visible detection to proactive analysis within your organization. Taking a proactive approach, where you are actively looking for the adversary, realizing you are already compromised, is the best way that an organization will win and stay one step ahead of the adversary. Today, it's not a matter of preventing all attacks, but true security is focused on containing and controlling the damage through timely detection.
Testimonials from Dr. Cole's Clients
"Dr. Cole as a presenter is pretty much like the energizer bunny. He just goes and goes and goes."
Attendee
"I LOVE U Dr. Cole, keep up the awesome work and thank you for delivering such amazing content."
Attendee
"Everyone said to attend a presentation with Dr. Eric Cole – I'm so glad that I did, Thank You."
Attendee
Great presentation!  I really enjoyed the message and found it to be truthful about reality and how to address it.
Gartner Keynote
I very much appreciated the non techie presentation on security. It made it real and understandable.
Gartner Keynote
I cannot thank you enough. The feedback from you and your presentation was outstanding! You had fans in the audience, and now some new ones as well. Your presence and content was spot on and flowed with the rest of the day's presentations. I cannot thank you enough – and am dying to know who you were working for out in California!
XEROX Keynote
It was our pleasure to host Dr. Eric at The Academy and kicking off our pilot of "Cybersecurity for Leaders" it was a very productive and fun day at the same time for our executives.
STC Academy